說明
大紅紅龍果果醬|濃縮的豔紅夏果
優先採用台灣當季小果、或天氣因素導致黃斑、結痂等影響外觀但完全不影響品質的格外品紅龍果。
紅龍果品種為「大紅」,吸飽夏日陽光的紅龍果,富含甜菜紅素而色彩豔麗,經過低度加工製成果醬後呈現自然膠稠度。果醬成分僅有紅龍果、砂糖、檸檬汁,以紅龍果的甜味為主、帶少許酸味以及纖細的青草香,紅龍果籽更豐富了口感,適合搭配優格、或調製成油醋醬等方法食用。
The ingredients of red dragon fruit jam include only red dragon fruits, extra light sugar, lemon juice, and no-added pectin. We select dragon fruits which are small or have some scabs owing to the weather condition as the quality remains good.
Red dragon fruits absorb summer sunlight and contain a lot of betalain in vivid colors. The jam with lower degree of processing retains natural adhesive strength. The flavor features the sweetness of the dragon fruit , a little sourness, and light green grass fragrance. The seeds also enrich the mouthfeel. It is applicable for yogurt or making into oil and vinegar sauce for salads.















規格
淨重:260±9公克
保存期限:12個月,開瓶後需冷藏,請盡速食用完畢
Net weight :260±9g
This product is vacuum packed. A jar of the unopened red dragon fruit jam can be preserved for 12 months at room temperature. After opening it, please preserve it in a refrigerator and finish eating it as soon as possible.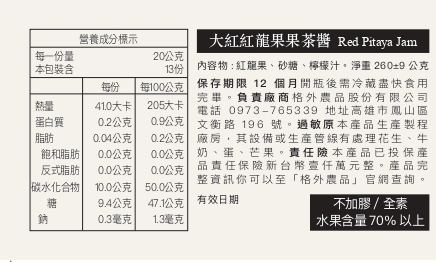 產地
火龍果選自台南市山上區的「大芳農場」,田地廣達10公頃,當地屬丘陵地形,排水良好,並能降低鄰田汙染的風險。第二代青農王致傑與父親聯手,以規模化的方式進行田間管理,包括擴大種植間距方便機器到田間作業、增設自動澆灑系統、草生栽培種植,並套袋減少病蟲害、購置冷藏庫維持水果鮮度與品質等。王致傑更向台糖購買甘蔗渣自製堆肥,種出來的紅龍果味道飽滿濃郁、香甜並帶有淡淡的甘蔗味。
The dragon fruits are grown in Shanshang District, Tainan City. The planter Mr. Zhi-Jie Wang ended his career in waste treatment because of the financial crisis and returned to his native land to take over the farm passed down from the ancestors. The farm is on an upland with good drainage system and lower risk of being contaminated by the neighboring farm. Mr. Zhi-Jie Wang expanded the farm to 8 hectares and widen the space between the plants for the machine's convenience to work on the farm. Moreover, he also installed automatic plant sprinklers, applies vegetative cultivation, uses bagging to decrease the number of pests, and stores the fruits in refrigerators to maintain the freshness and the quality. In addition, he buy bagasses from Taisugar company to be fertilizer, so the dragon fruits have strong sweet flavor with a little sugar cane aroma.